How is it almost Valentine's Day? Did it sneak up on anyone else? Well, I've got you covered with the best Valentine's Day Gift Ideas for her – any girl on your list!
Anybody else feel like they blinked and we're now a week into February? I feel like we just put the Christmas decorations away.
But, here we are – and Valentine's Day (and let's not forget our favorite Parks and Rec Deputy Director Leslie Knope's infamous Galentine's Day) is next week!
---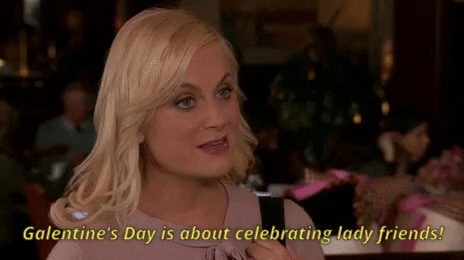 Below are some Valentine's Day/Galentine's Day Gift Ideas for any girl on your list (wife, BFF, aunt, sister, mom, etc). These are all things I'd love to get and hope you would, too!
---
valentine's gift ideas for her
---
---
---
Okay, yall. Full disclosure. I haven't taken a bath in like five years. Wait lol! That sounds like I haven't bathed in five years – ha! I promise I shower on the regular but it's been forever since I've taken a relaxing bath.
When I saw this, it made me think, why in the world haven't I? And, this bathtub tray would make it even more enjoyable (wine, magazine – yes please)!
---
Well, these are gorgeous if I do say so myself 😛 These sterling silver lockets are Templeton Silver Lockets (my company).
Keep the ones you love close by adding a picture to either side. You can add a black and white photo, color photo, or no photo at all. They are beautiful on their own. Of course, let me know if you have any questions about them!
---
Really no explanation needed for this! Yall know I LOVE my wine and these glasses are the cutest. A different spin on the usual stemless glasses. Mama like!
---
Speaking of wine….I just wrote a blog post on my favorite clean crafted organic wine. I discovered Scout and Cellar wine's about six months ago and I'm in LOVE! No preservatives, added chemicals, added sugars, nothing.
Wine club is the PERFECT gift for any wine lover (girl or boy) on your Valentine's List! Each month you'll receive your wine knowing it's good old fashioned clean organic wine. None of the extra yucky stuff.
---
Now, come on 😂 Did you really think I'd have a gift guide and no Kate Spade? Everything of hers is awesome. I seriously don't know if she has any product that i don't like.
How cute is this jewelry box? Love the signature bow tie looking handle.
---
I love pretty much everything Jonathan Adler makes, too. It's simple, a little quirky, and I dig it. I feel like you can never have too many cool vases and this one is perfect to add to my collection.
---
I think this is just adorable. Nothing says I love more than cooking me a meal 😂 And the heart-shaped waffles are the cherry on top (hmmmm….waffles, whipped cream and a cherry on top)!
And, if you have kiddos, they'd love it! A Valentine's Day treat for the entire family!
---
Remember your special day (or any special day) by turning your wedding vows (or any other text) into a piece of art that's personal and beautiful. I love this idea!
---
Queue up the Gene Kelly because this little umbrella is CUTE! I don't know if you'll start "Singing in the Rain", but if you do, at least you'll look pretty darn cute doing it!
---
---
I mean…..really? These are freaking precious. Just a little added something to make the 6:00 am cup of coffee a little more bearable. Okay, well, maybe not but there are pretty cute!
---
One of my BFF's owns a Charleston-based company called Local Dog and I love EVERYTHING she designs. Her new stainless steel wine tumblers are my favorite (shocker – wine). 😛 Check out her website!
---
How cute are these? These aren't something I'd wear all the time but I think they super fun for Valentine's Day. Add a pop of color Valentine's Day!
---
Putting on these puppies after soaking in a bath (with the bathtub caddy above) sounds like a glorious night to me! Nothing beats a good comfortable pair of pajamas.
---
As a two-time cancer survivor, yall know I'm all about clean beauty products, clean wine, non-toxic cleaning products, etc. I know we can't live in a bubble, but if I can reduce the number of toxins that I come in contact with daily, then that's a huge win for me.
Cote's nail polish formulas are cruelty-free and free of the major toxins associated with nail polish: formaldehyde, dibutyl phthalate (DBP), toluene, camphor, formaldehyde resin and triphenyl phosphate (TPHP), making their products one of the cleanest, safest nail polishes available.
---
A twist on the usual wine charms. I absolutely love these!
---
These hand creams are one of my very favorites. We usually only have these during the holidays but they stuck around this year and I'm pretty happy about it. As dumb as this sounds, I'm picky about lotions on my hands. A lot of conventional lotions leave my hands feeling kind of greasy.
These are perfect. Super hydrating and moisturizing with no greasy feel or residue. And, bonus, since Beautycounter's products are all screened for safety, harsh chemicals and known carcinogens that are found in so many of our personal care products, there are no fillers or crap in them. So, a little bit goes a long way and these last for forever!
---
What did you like best of these valentine's gift ideas for her?
I'd love to hear! And, would LOVE to know if you have anything else to add to it!
I hope you have a great Valentine's Day! xxoo
---
---
DISCLOSURE: This post contains affiliate links. If you purchase a product or service after clicking on an affiliate link, I may receive a small commission from the sale at no additional cost to you. Please note that I only recommend products that I love and want to share with you! This helps make The Silver Lined Life possible. For more information, see my disclosures here.
Pin valentine's gift ideas for her
---