*This gift guide for the cat lover is "pur-fect" (Eh? See what I did there? 🙄) All the cat things below for the person on your list that loves our little feline friends.
---
---
Okay, so yall know we weren't able to have children of our own and are trying to adopt a baby or do a surrogate. But, we do have two cats that truly think it's their world and we are just living in it.
While I am not cat-obsessed by any means and love dogs just as much (if not a smidge more than cats), these two goofballs (aka – dumb and dumber) are like our furry kids and we adore them and love them. Like a LOT.
These two have it made in the shade with us because they are constantly getting love and attention from us. But, I seriously digress 😂 See, we really need a child lol!
Below are some cute (and not over the top) things for the cat lover on your list (well, maybe the cat socks are a bit much, but someone out there might love them!
---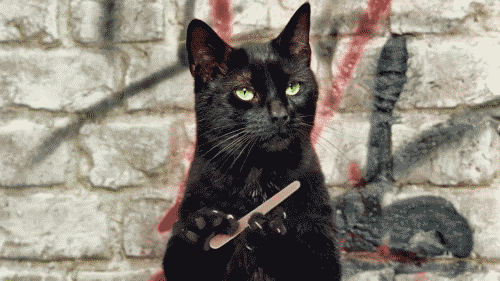 ---
This is taking the phrase "It's raining cats and dogs" to a whole new level. But, you'll keep dry with this little number.
---
My cats definitely don't help keep my papers together. If anything, it's more like them pawing at them or making themselves comfortable and sitting right on top of them. Let's hope these paperclips don't do that.
---
As always….you had me at wine. Period.
---
I'm always down for more wine. Excuse me, I meant, Meow Wine Please 🙀
---
These Rae Dunn bowls are pretty adorable. We could probably feed them with nothing and put the food on the floor and they'd be happy. I swear one of them is part pig/part cat as much as he eats.
---
Jay always calls it cat television when our cats look out the window onto the back porch staring at the birds. Our cats are inside cats so they wouldn't last a second in the wile (even though they think they are tiny lions). Something like this would definitely have them chilling in style.
---
Love a good coffee table book. This one is awesome.
---
For the more "stylish" cat.
---
Keep your toes and feet warm with these.
---
---
Start your day off with your morning coffee in a mug with a picture of a cat staring right at you. Wait, that's usually how we already wake up. One of the two of them is always staring or pawing at our head to get up and feed them. Again, their world, and we are just living in it 🤔
---
I mean….so cute. Right?
---
---
What did you think of the gift guide?
I hope this at least gave you some ideas! Have you found anything that's cute or funny? Let us know in the comments below!
---
---
DISCLOSURE: This post contains affiliate links. If you purchase a product or service after clicking on an affiliate link, I may receive a small commission from the sale at no additional cost to you. Please note that I only recommend products that I love and want to share with you! This helps make The Silver Lined Life possible. For more information, see my disclosures here.
pin gift guide for the cat lover