*This Gift Guide is filled with gifts he'll actually love. There's something for every guy on this Christmas/Holiday Gift Guide!
---
Gifts he'll actually love
---
I feel like buying for guys is not really complicated at all. Most of them are pretty easy to make happy. Below are some go-to's that any guy would want and actually like to have. And, none of them are going to break the bank – which is always a plus! 🙌
---
Stainless Steel BBQ Grill Tool Set
What is it about a guy and their grill? These tools will make him want to flex his grilling muscles in front of everyone. Love that they are stainless steel.
---
It doesn't get too cold in Charleston, but when it does, people are layered up like it's the tundra. These gloves will keep his hands nice and warm
---
Engravable cufflinks are something he can have forever! Cufflinks will never go out of style so this is a good one for any guy on your list.
---
No explanation needed for this one! What guy doesn't love this movie series? On our Godson's Christening day, Jay kept repeating, "I'm the Godfather" in his best Marlon Brando-esque voice. He needs to stick to his day job lol!
---
Safer skincare is as important for men as it is for women – enter Beautycounter's Counterman. A line of cleaner, results-driven skincare formulated to address the unique needs of men's skin and facial hair. The best part? It's all function, no fuss.
---
I know, I know. A wallet? How original. But, Jay will keep the same wallet for forever if I don't replace it for him. His wallet can take a serious beating and be hanging on by a thread by the time I get him a new one. Get him a new wallet before it starts to look like George Castanza's wallet and his back starts to hurt! (great episode if you haven't seen it) 😂
---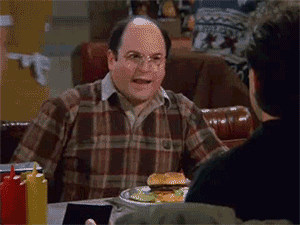 ---
The King of all water bottles. Yeti Ramblers are the best. Stainless steel (no BPA), dishwasher safe and "no sweat". Keep his coffee warm in the morning and his beer cold at night. I mentioned these in my hydration post. They seriously are awesome.
---
Like I mentioned above, it's rare when Charlestonians have to pull out the big guns to keep warm in winter months, but when we do, it's on. I really like this scarf.
---
I didn't get the buzz about a drone until Jay got one (a really inexpensive one to practice on). Yall, it's pretty cool. Charleston is the perfect backdrop to get awesome pictures. But, we haven't made it past our neighborhood, yet. 🙄
---
These are so handy. We have so many cords to everything that it looks like a tiny NASA space station. A docking station is a much better way to keep everything organized and charged!
---
Simple and stylish. I dig these.
---
You can never go wrong with a nice watch!
---
Upgrade from him throwing everything in a plastic bag with a nice toiletry bag.
---
Waterproof Portable Bluetooth Speaker
This might be my favorite. Jay's parents got us a portable BlueTooth speaker a few Christmas's ago, and we used it all the time. Pool, beach, lake, porch. Whatever. It's awesome and very useful.
---
Gift ideas for him
I think all of these gifts will make any guy happy. What are some of your go-to gifts for guys? Let us know in the comments below. I really wanted to make the options affordable and easy on you so you can relax over Christmas!
DISCLOSURE: This post contains affiliate links. If you purchase a product or service after clicking on an affiliate link, I may receive a small commission from the sale at no additional cost to you. Please note that I only recommend products that I love and want to share with you! This helps make The Silver Lined Life possible. For more information, see my disclosures here.
pin Gifts He'll Actually Love